Prepare for the Bushfire Season – Make a Bushfire Survival Plan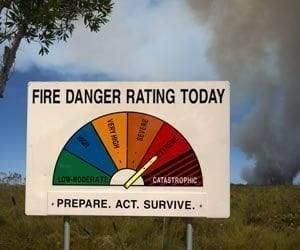 Bushfires are common in Australia during the summer months. It is best to be prepared. This ensures your safety, the safety of your pets and livestock, plus the survival of your home. Even if your bushfire plan is to leave, you still need to prepare your property.
Basic steps to prepare your property

Walk around your property, imagine a bushfire coming and look for articles that could possibly burn, or where embers could start a fire. Houses typically catch fire when embers enter your house through spaces in your buildings. Avoid sparks entering by blocking any gaps in the roof, under floor spaces, walls, under eaves, skylights, chimneys, evaporative air conditioning units and gutters.
For more permanent protection, install metal fly screens on all windows and vents. Install metal gutter guards. Consider moving garden beds away from your home and use stones instead of mulch. Replace timber fencing with metal. Consider placing water pipes from your dams underground and connect a pump to the house.
Remove all rubbish and clear vegetation from around your property, reducing fuel loads. It is recommended to create a 20-metre zone around your buildings keeping the vegetation low in this area. This reduces the risk of embers sparking a fire.
Ensure grass is kept short by regularly mowing, slashing or mulching. It is recommended to clean up any windrows or cuttings.
Rake up all leaf litter, twigs and bark that could possibly catch fire. Ensure tree branches are not overhanging buildings. It is recommended that you allow for a two-metre gap between your building and branches. It is also recommended to trim lower branches to ensure a ground fire does not spread to the tree canopy.
Trim any tree branches over hanging power lines.
Clean out your gutters removing any flammable material.
Store your firewood away from any buildings.
Secure your gas bottles and position them so they expel away from the building if they become exposed to flames or radiant heat.
Remove all fuel containers and store in a shed away from your home. Create a firebreak around it if possible.
Put firebreaks along paddock boundaries.
Make sure your property is accessible to the Rural Fire Service; by checking your cattle grids have the correct loading capacity for fire trucks.
---
Protect your assets with a sufficient water supply
Power and water supply will probably be lost during a bushfire. If you wish to vigorously defend your property it is best to have your own independent water supply. It is recommended to have a steel or concrete water tank with a 20,000 – 30,000 litre capacity, or draw water from dams and pools, this will help protect your home in the event of a bushfire. You will also require a fire-fighting pump and the necessary fuel. This should be stored in a safe and easily accessible place on your property.
Ensure your hoses are long enough to reach around your home. Make sure the hoses are suitable for high temperatures and UV resistant. Hose fittings should be metal as they are less likely to melt. Fill water tanks and attach them to pumps for fire fighting.
---
Check your insurance
Check with your insurance company that you have adequate home and contents insurance and you are covered against bushfire.
---
Protect your pets and livestock
At the beginning of the bushfire season, it is recommended to mulch or slash all paddocks where you hold livestock, reducing the threat from embers. Removing cuttings and windrows is also advised. A flail mower in this instance would probably work best, as they do not leave clumps or windrows; the cuttings are finer and spread evenly.
Remember your pets and livestock will need water and shade during a bushfire. Find an area suitable that also has little built up vegetation. Keep in mind it might be a number of days before you are able to return to your property, this needs to be considered in your plan.
---
Fire Danger Ratings
Understand the bush fire ratings prior to the season starting, refer to the Rural Fire Service website www.rfs.nsw.gov.au/fdr.
Severe – You should only stay at home if your property is well prepared and you are willing to defend it.
Extreme – Advised only to stay if your home complies with bushfire building standards and your property is fully prepared.
Catastrophic – Leaving early is the best advice in this situation.
---
Bushfire Survival Plan
It is recommended to make a Bushfire Survival Plan. Being prepared is key to your survival and the protection of your home.
Refer to https://www.rfs.nsw.gov.au/resources/bush-fire-survival-plan for assistance with making your bushfire survival plan.
Southern Cross Ag Machinery offers a range of finishing mowers, slashers and German Muthing mulchers / flail mowers, perfect for preparing your property for the bushfire season. Call (02) 4932 3011 and we will be happy to assist you with all your mowing, slashing and mulching needs. Remember keeping fuel levels low through proper pasture maintenance should be a major part of your bushfire plan.