Slasher, Mower or Mulcher which one is best for the job?
If you've got a large area of grass to manage and you're looking for an effective alternative to a ride-on mower you have a few options available.
Such as a slasher, finishing mower or flail mower/mulcher but what are the differences? And which implement is the best fit for your grass-cutting needs? You can save yourself a lot of time, effort and fuel by making the right choice.
All mowing implements listed above require a tractor to operate them. If you own a tractor your ride-on mower can be easily replaced with a 3-point linkage machine that operates behind the tractor offering you the advantages of a wider cutting width allowing you to get the job done more quickly. Some cutting implements are better suited for clearing areas others for providing a lawn finish while some machines can provide both.
Here's an overview of the 3-point linkage options to help make your choice:
Slashers
Slashers are exceptionally good at clearing and maintaining large areas of grass. They're great for thick, high grass in particular. They are durable and can manage an area that may have hidden rocks and debris due to the slasher's swing-back blades. They're not as effective in terms of providing a lawn-like finish and will create windrows.
Tractor Slashers are best suited for clearing paddocks. Slashers have the ability to cut at various cutting heights generally by adjusting the skids and or jockey wheel. Slashers do have limitations in terms of how low they can cut; this combined with the type of blades they use does not allow a slasher to provide a lawn finish.
IMAGE: SXM 5ft (45hp) Slasher
Check out some videos of our Slashers in action or view our range of Slashers.
---
Finishing Mowers
Finishing mowers are perfect for maintaining your grass or lawn; they are not suited to heavy grass growth.
A finishing mower is perfect to mow any lawn you would ordinarily mow with your out-front or mid-mounted mower. Finishing mowers attach to the 3-point linkage of the tractor, they have three blades and are belt driven. You can adjust your cutting height easily with the height-adjustable caster wheels.
Finishing mowers are perfect to manicure a lawn or playing field; they're very easy to operate, making them great for large areas. Finishing Mowers are available in 4ft, 5ft, 6ft and 7ft machines providing a great alternative to a ride-on mower by offering a range of cutting widths. Finishing mowers are also very competitively priced so they could be a great option depending on your budget.
IMAGE: SXM 6ft Finishing Mower
Check out our range of Finishing Mowers.
---
Flail Mowers/Mulchers
The flail mower is the best of both worlds, they can handle heavy grasses while also providing a beautifully finished cut.
A Flail Mower or a Mulcher does not create windrows rather they leave an evenly distributed mulched bi-product that decomposes quickly and puts many necessary inputs back into the soil. This mulch assists in preventing erosion and improves soil structure and fertility also reducing the chance of disease infestation. Mulching is effective for weed and pest control and over time a mulched paddock will require fewer fertilisers, pesticides and herbicides.
Flail Mowers are also very popular in the bush for their ability to create firebreaks and remove fuel loads to help shut down potentially deadly grass fires.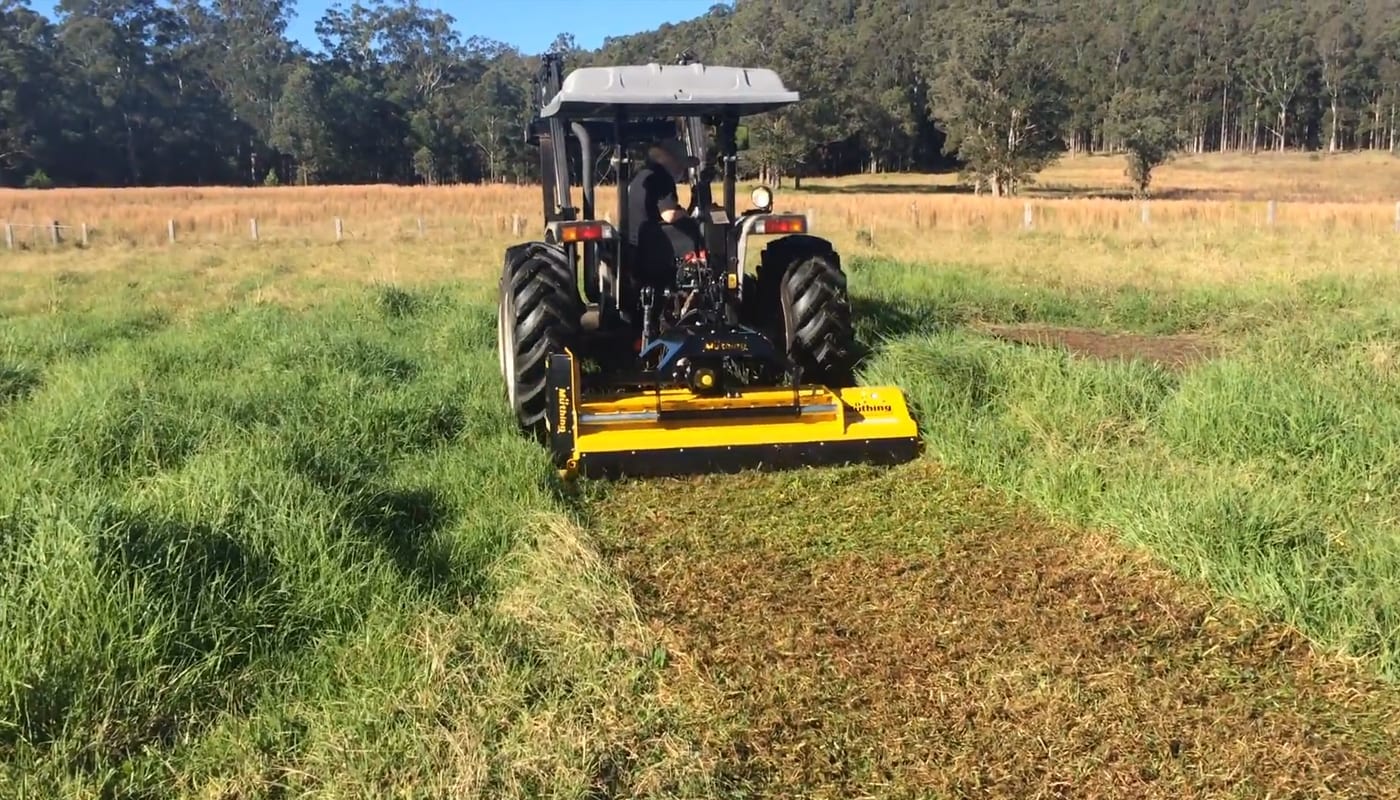 IMAGE: Muthing Mulcher
Check out some videos of our Mulchers in action or view our range of Mulchers.
---
So, Which Is Best? Here Are a Few Tips
The easy way to choose is based on practical considerations:
Areas around the house: Generally, a finishing mower or flail mower is best for house paddocks. Both provide a manicured finish. Flail mowers can also be used for other jobs around the farm while a finishing mower can only be used on lawn grass.
Grass and bush areas: Slashers and flail mowers win this competition because they can manage growth and fuel build-up risks very easily, particularly if you're dealing with a very large mowing job. Finishing Mowers aren't designed for this work.
Pasture Improvement: Flail mowers or mulchers are the best options if you are looking to regenerate your pastures and the overall soil health of your property. They can manage heavy grass and stubble, provide a beautifully finished cut and help improve the overall health of the land. If your budget allows these machines are the perfect solution all around.
Lawn maintenance: To keep your turf looking at its best, the finishing mower is a great option that is competitively priced. Just make sure your blade settings are right for the season and the type of grass being mowed. A little extra length doesn't hurt, and the grass is better sheltered in hot weather.
---
Looking for Mowers, Slashers or Flail Mowers / Mulchers?
Southern Cross Ag Machinery is the Australian distributor for the German-engineered and European-built Muthing Mulchers, we also offer the Australian Compliant Southern Cross Slasher range and Southern Cross finishing mowers.
Please call us on 02 4932 3011 or send an enquiry through our contact form. We are more than happy to assist you with your pasture/grass management enquiry.